SpectraComp® are single stain controls that optimize spectral unmixing results to reduce errors associated with spectral overlap. These controls mimic the staining performance of real cells. SpectraComp® captures multiple species of antibodies, including mouse, rat, and hamster.
This product is intended for spectral mixing or conventional compensation to match the single staining of real cells. Staining with SpectraComp® yields a positive and negative fluorescence peak that will aid in resolving spectral overlap during spectral unmixing or compensation.

This product comes in one vial with negative and positive capture mimics combined.
Benefits:
Unparalleled high fluorescence response (greater than 10e5 MFI on most bright fluorochrome)
Conveniently works with multiple species of antibodies: mouse, rat, and hamster 
Exceptional performance in spectral analysis and unmixing
Compatible with violet and UV fluorochromes
Cell-like autofluorescence for superior signal-to-noise resolution
Resources:
Poster: 
Spectral Cytometry Reference Controls: The Search for the Perfect Particle
Publication:
Jensen, HA, Kim, J. iCoreDrop: A robust immune monitoring spectral cytometry assay with six open channels for biomarker flexibility. Cytometry. 2023; 103(5): 405–418. https://doi.org/10.1002/cyto.a.24708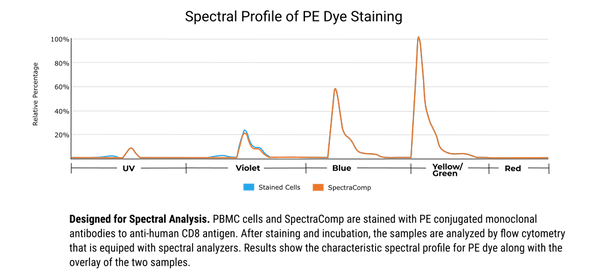 Contact
Need something custom? That's kinda what we do
Let us know what we can build for you.